If you're anything like us, Zoom is a huge part of how you communicate with clients and prospects. Here's how to integrate it with HubSpot.
Getting 'face time' with a client or prospect is key to long lasting relationships. Zoom helps you easily and reliably achieve that. Thankfully, you can now integrate HubSpot and Zoom together.
Once integrated, you are then able to add Zoom links to your HubSpot meeting links while also adding contacts to Webinars through HubSpot Workflows.
You must have an active Zoom account and HubSpot portal for this to work. You can sign up for a free Zoom account here and a free HubSpot account here.
1. To connect, click the settings cog in the top right of your HubSpot portal.

2. Then, on the left hand side of the screen, click Integrations and then click apps in the drop down list that appears.
3. Click the orange "Connect an App" button and then type "Zoom" in the search box.
4. Beneath the card with the Zoom logo, click "View Integration".
5. Click the orange "Connect to Zoom" box.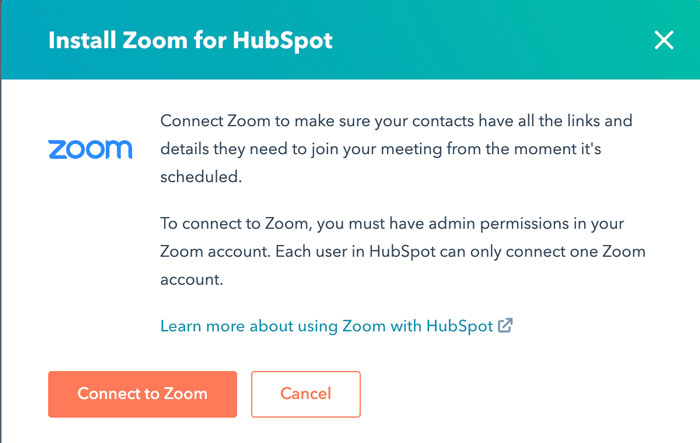 6. Click "Authorise" in the pop-up window that appears.
You are now integrated.